Fees are fixed and linked to the size and complexity of your business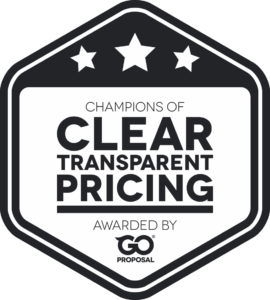 We don't have an hourly rate for our standard services, preferring to work with a menu of fixed fee services based on the size and complexity of your business.  It's up to us to deliver through efficient and effective services, and our clients love it.  So how does our menu work…
…The quick answer, all fees are calculated based on the services you need according to the size and complexity of your business.  In order to gauge this, we'll look at your turnover, number of employees, volume of transactions, the quality of your record keeping, and levels of service required.
For more information on how we calculate fees, look at our blog Pricing: 7 steps to preparing your quote…this how we do it!!!
How does this benefit you and your business?
Monthly subscription to fit your budget with fixed fees based on the menu of service selected
Clear, transparent and flexible plan, so services can be scaled up or down as needs change
No surprise accountancy bills along the way…perfect
Don't forget, we also offer free phone support to all our clients.  We want our clients to get in touch whenever they need our help, without feeling the fear of, "is the clock running in the background?".
Remember, we are your team of accounting professionals, just as committed to your success and you are.  If you would like a quote, or to find out more, simply get in touch and we will be very happy to talk to you about your business.
FAQ's
Do you have any hidden fees?
For non-standard services, such as references for loans, tenants and mortgages we will charge additional fees, but rest assured each piece of work will be agreed up front…no surprises!!!  All our prices are subject to VAT at the current standard rate.
How do we pay you?
Our fees invoiced monthly and payment is processed as a direct debit via GoCardless.
Do you offer discounts?
Our services have been priced with reference to our experience and qualification of delivering great service to clients.  In order to commit and deliver the quality we strive for we cannot offer discounts.
If you would like to explore how we can help you...