Good news!
According to latest statistics from the OBR (post the most recent November budget), the UK economic recession is not going to be as deep or for as long as feared. And certainly won't be anything like as deep or long lasting as the financial crash seen in 2008.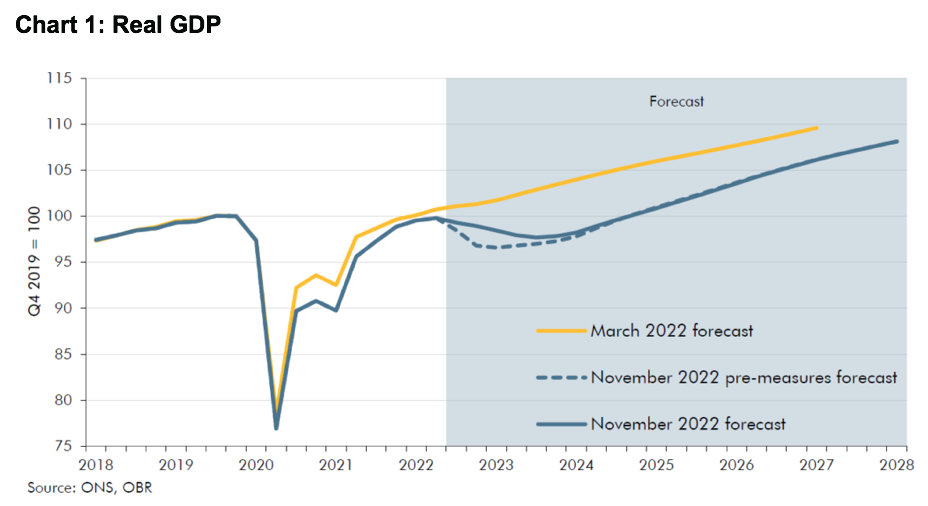 That's great but what does it mean for your small business?
Latest statistics show we will exit the recession in 12-24 months' time, so ambitious business owners looking to achieve sustainable, profitable growth should be prioritising the following actions now.
Why?
To ensure your business exits the other side not just as a survivor, but in a position of real strength.
Because your competitors will be looking to up-skill too whilst you have drifted with the tide or stood still.
Because this is what great long-standing businesses do and they've proven the model.
Check out Walt Disney…

10 steps to take NOW to make your business recession proof
Check your sanity level.
Honestly, are you doing the same thing over again and expecting the same results? We know the common goal for most business owners is to grow sustainably and make a profit. So ask yourself, "what do we need to do differently this year?" You have a choice:

Do nothing – but be mindful that others are raising their game around you
Retreat – allow the ebb and flow of the recession drift you back with the tide
Take action

Check your foundations.
Before you move forwards, it's massively important to check your current set up and defend your position. Ask yourself, "is my business built on rock or sand?" Having strong foundations for growth means you not only increase your chances of surviving the recession, but you will also strengthen your business foundations to take on new growth. Any inefficiencies not addressed, i.e., cash, quality, service will only be magnified during a growth phase.

Download our Risk Register template to help you get started.

Check your focus.
The primary function of your business is to Make Money. Nearly all problems in your business can be solved with money. For example, hiring the right staff, investing in the right marketing strategy to attract your dream clients. Remember, to build the lifestyle, you want for you and your family, or to provide employment in your local area, or to deliver on your own bespoke purpose, you will struggle to do any of these without money. Look at the diagram below: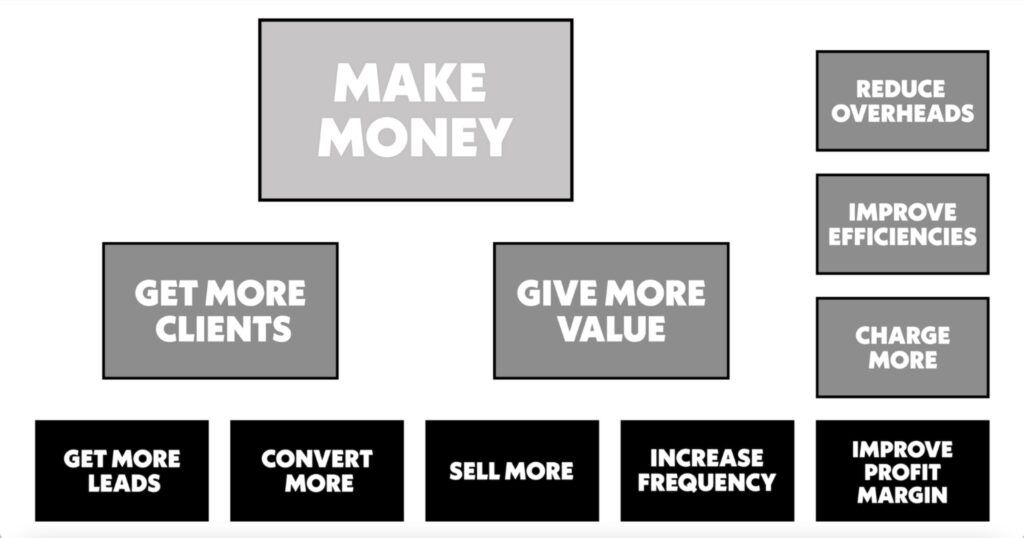 ©Copyright from the book "Untapped" by James Ashford
You can see there are only 2 ways to make money, and that's by giving more value to existing customers and by getting more new customers. Your focus as a business owner should be on these 2 areas alone as focus wasted on anything else could mean you are a cost to your business. The fastest route to making money is as follows:
Charge More to existing customers
Sell More to existing customers
Increase the frequency of sales to existing customers
Why these first?
Marketing can be expensive, and it takes time to acquire new customers, so it's logical to focus on your existing loyal customer base first. Only when you have exhausted the 3 areas should you move on to areas 4-10.
Before we go on, I just wanted to reiterate the importance of going back and defending your business position first, so you have a great foundation to build on. Stick to this formula – it works!
So what's next…
Remember, if making money can solve nearly all the problems in your business, then…
Sloppy spend x weak margin = hard to grow/survive
Controlled spend x strong margin = sustainable profitable growth
Some final thoughts based on great practice from our highest performing clients…
Protect your mindset
I stopped watching the news regularly during the pandemic, so 2 years ago now. Trust me when I say anything important you need to know about will come on to your radar. People will talk about the important parts, so you won't miss a thing. You will, however, get back all that time spent in front of the TV. Remember, the news feeds off viewers. It's a competitive industry and the best way to attract viewers is via dramatic stories and headlines, often negative with only the final minute being set aside for the "and something lighter" section. Give it a go, what have you got to lose? Our best performing clients work hard to protect and develop their mindset. Ask us about our mindset series, we'll be happy to share key mindsets most valued by our most successful clients. Check out one of our favourites OARBED. (click to download the PDF)
Now is a great time to be an entrepreneur
Whilst many businesses are contracting and slipping back with the tide. Ambitious business owners will be taking the opportunity to "sharpen their axe" by going through the steps above.
And finally…
be motivated by this list of great Companies that started during a recession.
From the likes of Walt Disney to General Motors and from Airbnb to Uber, recessions have helped catapult new businesses onto the road to success.
The UK has seen its fair share of start-up successes during economic downturns, too.
From Wilko launching during the Great Depression of the 1930s to modern businesses such as PureGym starting during the deepest recession since the Second World War, start-ups haven't let economic downturns stand in their way.
Want your business to exit the recession in a position of strength not just survive it? Want to avoid drifting with the tide whilst your competitors up-skill? Get in touch to find out how we can help you make your business recession proof.