Welcome onboard
We'll soon have you flying...
The onboarding process is a critical system as it's the first experience you, as a new client have of us.  It's also the runway that commences launch of our services.  The onboarding system is made up of 4 key pathways which run in parallel with each other and ensure the most efficient onboarding process. 
Please work your way through items 1 to 3, this is a carefully curated list of everything we need to get the ball rolling.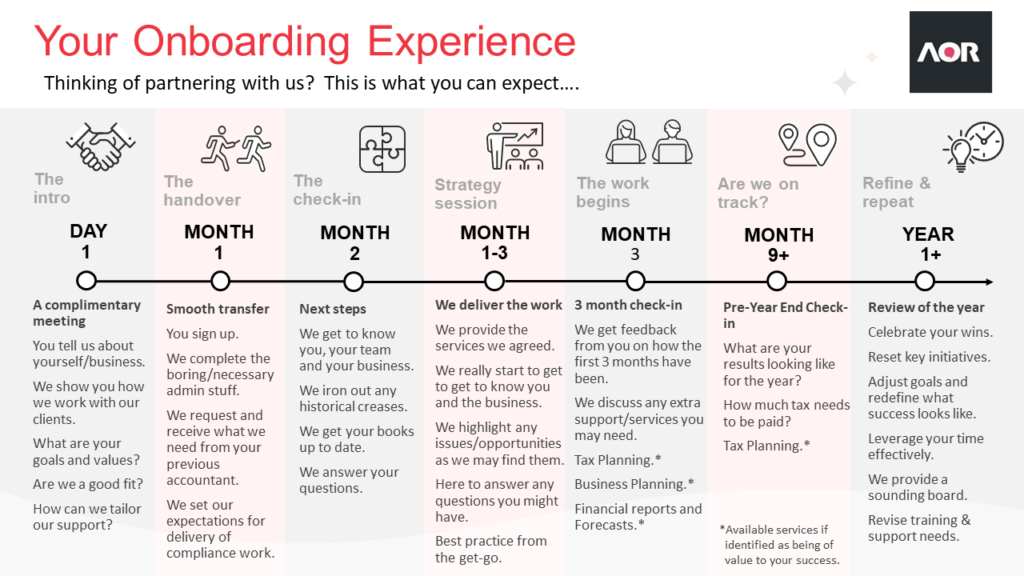 Got questions? No problem
"I'd highly recommend Joan and her team for all aspects of accountancy. Her calm and friendly approach combined with a wealth of experience and in-depth knowledge of accounting make Joan a key part of my business."
"You have offered me guidance of the highest quality and there is no one I would want more to handle my affairs other than you"
"I thought I had a pretty good handle on my company finances before I started working with Joan. I now could not imagine working without the support of her company, Adams O'Rourke. Joan's attention to detail, her gracious willingness to broach potentially challenging discussions and her unflagging commitment to developing both her offering and my business are stand-out strengths. If you're a small business looking for an accountant that will truly partner with you in your journey of growth, I wouldn't hesitate to recommend Adams O'Rourke."